February 10, 2017



Senator
Bill Wielechowski
1500 W Benson #228
Anchorage, AK 99503
907.269.0120
FAX: 907.269.0122
sen.bill.wielechowski@
akleg.gov
State Capitol, Rm 7
Juneau, AK 99801
800.550.2435
907.465.2435
FAX: 907.465.6615
Contact the Governor
Governor Walker's Anchorage office may be reached at 269-7450, or e-mail him at gov.alaska.gov
Visit the state website
www.state.ak.us
________________
P.S. For more regular updates, follow me on Facebook and Twitter:






•SUBSCRIBE•
•UNSUBSCRIBE•
Dear Friends and Neighbors,
As the 4th week of the legislative session comes to an end I want to share with you what I have been focusing my time and efforts on.
Protecting the PFD
I've heard from many of you about the importance of protecting the Permanent Fund Dividend. There are several different efforts at this point to protect the PFD and reinstate the funds from the Governor's veto last summer. But one thing we have learned is that the only way to truly protect the dividend into the future is to put it in the Constitution. That's why I've proposed a resolution, SJR 1, which would give the people of Alaska an opportunity to vote on whether the PFD should be put in the Alaska Constitution. This resolution had a hearing in the Senate State Affairs committee on Thursday.
If passed, this bill would still allow excess earnings from the Permanent Fund to be used for government if necessary. In fact, our rough estimates are that we could keep the same PFD formula, continue inflation-proofing the Permanent Fund and still have about $1 billion in excess earnings available.
I will keep you updated on our progress as the session continues. If you would like to testify at the upcoming hearing please reply to this email or feel free to call my office (907) 465-2435.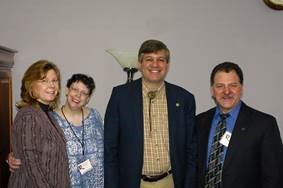 With Constituents from the Governor's Council on Disabilities.
Protecting our Fisheries
While the Trans-Pacific Partnership was bad for many reasons, it had some good provisions for Alaska's fisheries. On February 1st, I introduced a resolution, SJR3, in the Senate which asks Congress to mitigate harm to our commercial fisheries from the President's decision to withdraw the United States from the TPP.
There would have been great benefits to Alaska's fishing and seafood industry. I submitted the resolution which urges the President and the Congress to seek bilateral trade agreements that contain protections for our fisheries. These protections should include:
• Requiring proper labeling on seafood products to prevent other countries from labeling farmed fish as "wild" or "Alaskan"
• Combating illegal fishing practices by barring trade with nations that allow it
• Promoting and enforcing sustainable and ethical fishing practices
Public Safety Concerns
Crime in Anchorage and Alaska is at an unacceptable level. A large drop years ago in the number of Police officers in Anchorage has contributed to this problem, and I'm glad to see the Mayor and Assembly focusing on fixing this problem. At a recent Senate Judiciary hearing, we learned that budget cuts at the State Department of Law between 2013 and 2016 have resulted in 31 Prosecutors and staff positions being cut, which has resulted in nearly 7,000 cases not being prosecuted. This is a dangerous trend that must be reversed. My colleagues and I this week sent a letter to Gov. Walker asking him to take immediate action to remedy this situation.
We have also heard your concerns about Senate Bill 91, which passed last year. While there are many good provisions in this bill, and much of the bill has not gone into effect yet, changes are clearly needed. I have had many conversations in recent days with law enforcement officers and look forward to voting to make the necessary changes to keep Alaskans safe.
List of proposed changes to SB91.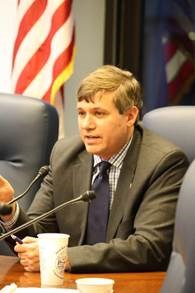 Sen. Wielechowski speaks on the importance of fixing our broken oil tax credit system.
A Letter to the Department of Transportation Commissioner
We should always be looking to cut costs in State government, but we must be smart about our cuts – and make sure those cuts won't actually end up costing us more. On January 31st, I sent a letter to the DOT&PF Commissioner about concerns over a proposed cut of up to 300 DOT&PF personnel, including engineers and support staff positions. Six of my colleagues joined me in signing the letter. The Governor has proposed to put 100% of engineering design of Alaska's highways and airport projects out to private consultants.

Over 90% of the funding for these positions comes from federal dollars. From what I've seen so far, this plan would likely cost the state even more and would mean Alaska would lose highly skilled, specially trained individuals from the state workforce while the contracts would go to Outside consultants and Alaska could risk the optimal safety of our highways and airports and losing the benefits of the large sums of federal dollars paying for those state positions.

Warmly,

Bill Wielechowski
Alaska State Senator
District H - Anchorage